Welcome to Queen's Maid Cleaning Service!
Queen's Maid Cleaning Service is a family owned and operated full-service cleaning establishment. Serving the entire metropolitan Phoenix area for over 20 years!
---
Residential Cleaning Service
For our residential cleaning clients there is nothing better then coming home to a fresh, clean and sanitized house. We personalize our house cleaning and sanitizing services to meet your exact needs and guarantee to treat your home with all the individual attention and care it deserves. There is nothing better than coming home to a fresh, clean house. To ensure a thorough job we utilize our Basic Cleaning Checklist and any specific needs of the home each and every time.
Vacation Rental Cleaning and Supervision
For our Vacation Rental Cleanings and Supervision Services we can handle most your needs. Our goal with each vacation rental cleaning is to completely clean, sanitize and stage the rental as "hotel room ready."  We now offer fogging sanitization as well.  We can act as your property's caretaker. Often these needs include the stocking of basic supplies, guest gifts, and same day turn arounds. Every vacation rental requires an individual and specialized cleaning and maintenance program. We work with the owners in setting up a plan that tailors to all their wants and needs, so their guests have a delightful and pleasant vacation. Since we've been at this for over a decade we can also give our clients tips on how to set up your property and ways to get as many rental inquiries as you want for your vacation rental property.
Commercial Cleaning Service
For our Commercial Cleaning services we handle all the needs of your offices or shops. From needs of a flower shop or salon to a typical office, we have them all covered. To make certain your business is cared for properly a specific cleaning and sanitizing routine will be put together utilizing our Basic Cleaning Checklist and any specific needs of the business.
Home Watch Service
We provide home watch services for our seasonal clients and vacation rental owners! We will monitor your property periodically to ensure your home is safe while vacant. We are also available to take care of and address any unforeseen emergencies that the vacation rental property or the guest may require. These include the coordination of repairs, guest lockouts, etc. Utilizing our experience and knowledge we can give our clients tips on how to set up their homes while they are gone for long periods of time. Having a seasonal home in Phoenix, this is often called "Summerizing" the home.
Internet Special!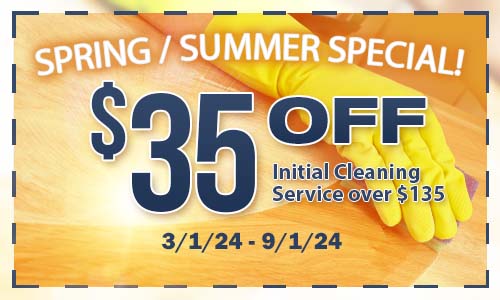 Client Feedback
We have built our client base on the trust and personalized care we have provided over the years. We take on the burden of heavy house cleaning to make your life a little easier. Our goal is to give our customers peace of mind and a little extra time in their busy schedules. As a locally based business, you can be confident that we will offer you or your business the best maid service possible and be immediately available to address any questions or concerns you might have. We appreciate your patronage.

Top notch service! I have been using Queen's Maid Cleaning Service for over 2 years to maintain my short term vacation rental. They are fast, friendly, efficient, thorough, and easy to communicate with. They always show up on time and when they say they will do something, they do it.
Josh C.
Scottsdale, Arizona

I have been working with Queen's Maid Cleaning Service for several years and have nothing but the highest praise for the exceptional way they go about their work, their professionalism is second to none and will continue to use them for years to come.
Erik Gocken
Owner - Global Real Estate Investments

We couldnt have our vacation home in the sun without Kyle & the team from Queen's Maid Cleaning Service. Professional, dependable and trustworthy. We love this company.
The Mayor Family
Quebec, Canada

We can't recommend Kyle and his crew enough. They are best in class and go above and beyond the normal call of duty. I wished they offered their services in all of the markets we operate in.
Keith Brant
Owner - Premier Vacation Rentals

Kyle's bonded and insured team provides us the peace of mind that our condo is safe and the trust that all of our contents are secure. I would highly recommend Queen's Maid Cleaning Service for all of your residential cleaning needs.